We hereby have to inform you that with a heavy heart we have decided to cancel the International Application Meeting on January 13, 2022.
The decision was not easy for us, because after two years we were already very much looking forward to the personal exchange with our users. There are many things that we have further developed - especially for the improved installation of our SAERTEX-LINER® - and many innovations that we wanted to show you in a very practical way. For this purpose, we have already put together a varied program with our SAERTEX multiCom team and great partner companies.
However, as the current pandemic situation has recently come to a head again, we consider it inappropriate to hold an event with over 100 participants and many contact opportunities now. In addition to the technical presentations, workshops and practical parts, we also attach great importance to the social get-together during our evening event - but we believe this is only feasible to a limited extent in January 2022.
Bild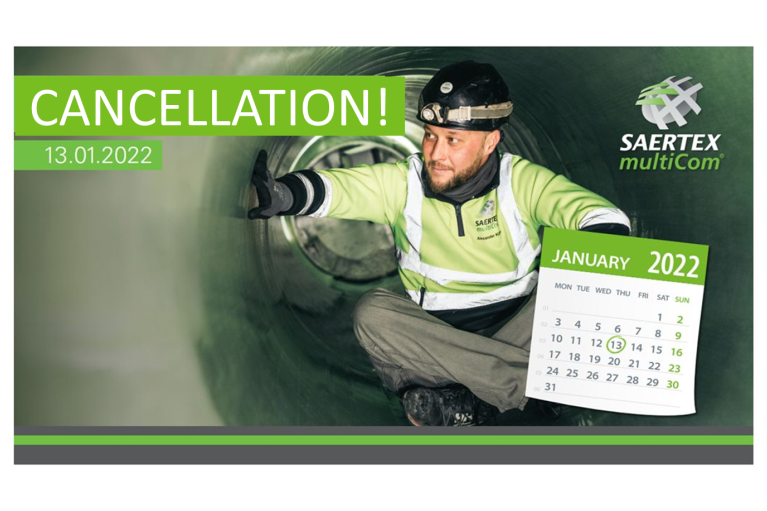 Overall, we at SAERTEX multiCom have moved a large part of the administrative staff to the home office and are reducing contacts at the site by external visitors to support the corona protection measures.
We will make up for the Application Meeting and in the meantime use other ways to show you and your team what improvements and innovations there are for our SAERTEX-LINER®.
All in all, we are looking positively to the future and are already very much looking forward to hopefully welcoming you at one of our other events in 2022. Next year's highlights will certainly be IFAT at the end of May and our pipe symposium on September 22. We look forward to welcoming you and your colleagues then.