SAERTEX multiCom is capable of handling pressure – especially in the trenchless segment. The international manufacturer of UV-cured GFRP pipe liners is a pioneer in precisely this technology. A member of the SAERTEX Group, the company is also making great strides in terms of sustainability. Boris Valdix from B_I Medien talked to Global Managing Director Kai Diecks and Global Director Products Dr. Nils Füchtjohann about developments in the pressure pipeline segment, sustainability and technical opportunities offered by pipe liners, as well as corporate strategies and goals.
Image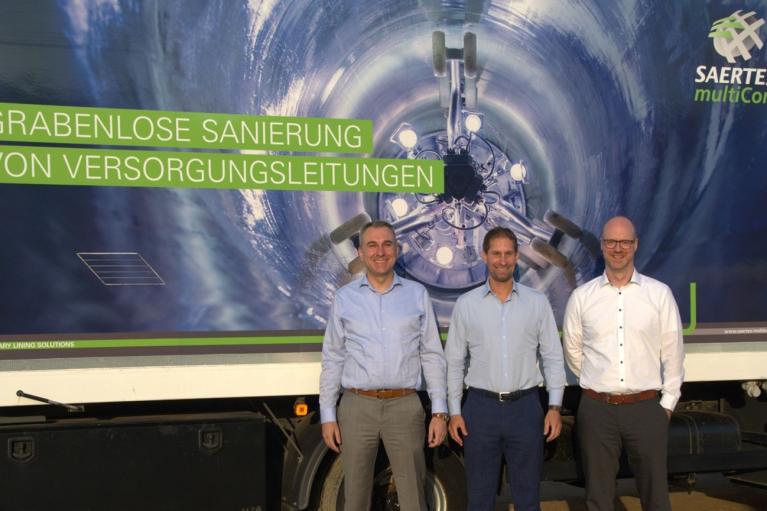 The interview trio on the premises of SAERTEX multiCom in Saerbeck (l to r): Kai Diecks, Global Managing Director at SAERTEX multiCom, Boris Valdix, Editor-in-Chief B_I umweltbau, and Nils Füchtjohann, Global Director Products at SAERTEX multiCom 
B_I umweltbau: Where will the level of trenchless rehabilitation lie in future wastewater disposal and water supply applications?
Kai Diecks: Trenchless technologies have been established in Germany for many years. From a global perspective, however, there is still much to do in the field of UV-curing products. As an international company, we operate worldwide and would like to establish and further promote out technology abroad. The potential for UV-curing pipe liners is extremely large. In America, for example, the market share of felt liners is currently around 90 percent. In future, we want to take a far more aggressive approach to expanding sales of our GFRP liners into precisely such markets – and are anticipating a positive trend, just as in Germany.
B_I umweltbau: SAERTEX has played a key role in the development of pipe liners for rehabilitating pressure pipelines in both wastewater and potable water applications. From your perspective, how has this market segment developed? 
Dr. Nils Füchtjohann: We launched our pressurized wastewater liners in 2012. At that time no comparable products were available. Over the past ten years, we have focused on further developing both our products and our markets. This is a holistic process for us; one which also encompasses approvals, training, and communication with municipalities/network operators and customers. We consider our development in the pressure pipeline segment to be very positive – particularly in the potable water segment. Our SAERTEX-LINER H2O for the trenchless rehabilitation of potable water supply lines has already been used to complete more than 350 installations in around 100 projects worldwide. We are currently working on seamless liner designs in which we have been able to improve the ductility and operating pressures.
B_I umweltbau: Connecting pressure liners in existing systems is considered an error-prone endeavor; moreover, installing connecting pipes presents a further neuralgic issue. Are any new or potential solutions available here?
Füchtjohann: Over recent years, our customers have connected our pressure liners to the existing network hundreds of times with great success, for example using a CIP joint from Nova Siria and corresponding liner end seals. Our holistic approach to project planning means this very important step can be performed without difficulty.
In terms of lateral connections, I am pleased to report that a low-pressure range solution manufactured by ALH Systems for the SAERTEX-LINER Gas was approved in the UK just a few weeks back. During a construction project in April this year, we were even able to demonstrate that this lateral connection can be installed on the SAERTEX-LINER Gas during ongoing operation. Furthermore, we are also working on additional solutions for lateral connections that are capable of handling an operating pressure of 16 bar.
"We would like to tap into foreign markets for our GFRP liners far more aggressively in future." Kai Diecks
B_I umweltbau: What is the current situation regarding pipe bendability?
 
Füchtjohann: Our liners in the pressure range are best suited for straight pipelines. Of course, a certain degree of product bendability is possible – however, our civil engineers evaluate this on a project-specific basis, taking into account a rehabilitation project's overall framework conditions.

B_I umweltbau: One explosive topic that practically all companies are currently being forced to deal with is the impact of the war in Ukraine. How is it affecting you? For example, in terms of producing glass fibers and substrates, liner sales, or the procurement of resins and other materials?

Diecks: Multiple crises have characterized the past few years: It started with the coronavirus crisis, progressed through the logistics crisis, and now we have the Ukraine crisis and attendant energy crisis. These crises have naturally impacted – and are continuing to impact – supply chains and raw material markets; prices have risen enormously. This has hugely affected us too, especially when it comes to chemical products. A degree of uncertainty has consequently arisen throughout the market – affecting everyone from producers to end customers. In the meantime, we have noticed a slight decline in calls for tenders. However, the situation appears to have calmed down over recent months, helping us maintain more stable product pricing. Of course, energy prices continue to be problematic, and we are monitoring the energy price trend.
Image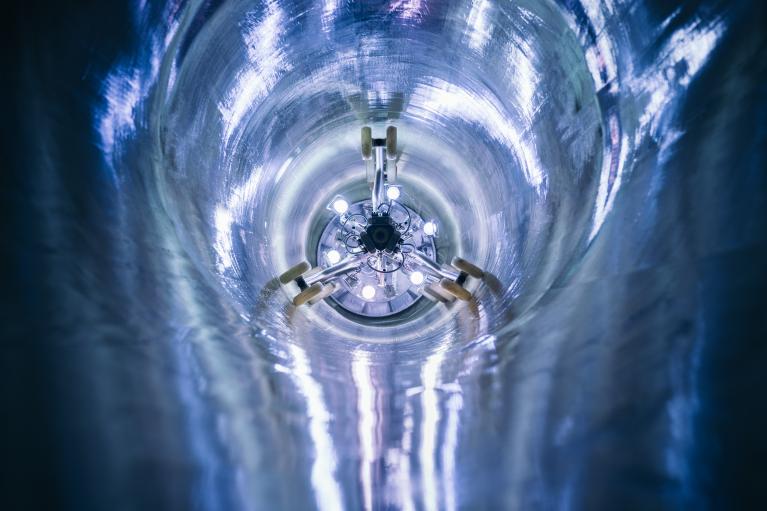 Curing a GFRP pipe liner using UV light
B_I umweltbau: Particularly in view of the current challenges and uncertainties, there is no harm in focusing on sustainability and intrinsic value when it comes to pipe liner technology. At the German Pipe Liner Convention in mid-September, discussions included the optimization of resource consumption, for example, by more precisely analyzing the performance of liner systems – in terms of their system limits – from a mechanical perspective. The objective should be to drive forward the development of pipe liner technology and installation quality. What is your position on this issue as a liner manufacturer?
Diecks: From a strategic perspective, sustainability is one of the most important issues to us – and one that is practiced throughout the entire company. The ongoing development of pipe liner technology is certainly a key issue in this context. At Saertex multiCom, we can produce even thinner wall thicknesses with high characteristic values without difficulty. The benefit of this would be reduced consumption of resources. But this approach has gained a bad reputation in recent years. In my view, however, the discussions you described at the German Pipe Liner Convention are heading in the right direction. Operating in a more resource-conserving manner is one of our clear objectives, but the issue should not be brought down to the level of mechanical parameters alone.
We are currently on the verge of ISO 14001 certification for our environmental management system. At the end of 2020 we introduced the Saertex-Liner UPgreen product improvement program, which delivered savings of well over one million kilograms of CO2 within the first year. More recently, we have been able to demonstrate the carbon footprint of our Saertex-Liner Type S+ in accordance with DIN EN ISO 14067:2018 and have it verified by an independent institute. These are just a few examples – and we still have much work ahead of us. One of our most important future objectives is achieving CO2-neutral production. Preventing waste will also be an important issue.
"We are working with a consortium to further develop how we monitor curing." Dr. Nils Füchtjohann
B_I umweltbau: Achieving sustainability also includes energy-efficient and complete curing. On the construction sites of utility company Hamburg Wasser there have been repeated reports recently that UV-cured GFRP liners had not been fully cured. Hamburg Wasser is working with other network operators to find the causes. So do we need to optimize the UV-curing process too?
Füchtjohann: We are of course aware of this issue. We place our focus on quality and not on curing speed. We collaborate with different UV system manufacturers and intensively test the liners at our on-site testing facility to check that all of the quality criteria are met, whether the mechanical parameters are correct, whether the residual styrene values are suitable – for the various systems, superstructures and geometries.
Safety is therefore our top priority. This is the reason we have been long been addressing this issue. We have formed a consortium with the SBKS testing laboratory and the companies Prokasro and Netzsch to further develop impedance spectroscopy*. Our approach is not only to take measurements in manholes, but to perform measurements along the entire length of the liner. We have already achieved good results in this area and intend to leverage them to benefit the market in future. The consortium will be commencing initial site tests in the coming months.
B_I umweltbau: Are digitization and process automation instruments for countering the shortage of skilled workers?
Diecks: Digitization is also a very important part of our corporate strategy – in terms of our customers and with regard to the shortage of skilled workers. We are increasingly embracing digitization and are continuously working on optimizations. Digitization and process automation allow us to lighten our customers' workloads. For this purpose, we have for example, developed a digital customer portal that allows liners to be conveniently ordered at the click of a mouse button. Moreover, of course, a company that focuses on digitization also presents an attractive opportunity to prospective young employees. But there are also other aspects that are important to young employees, such as the right to self-determination and freedom to pursue work or further training.
Image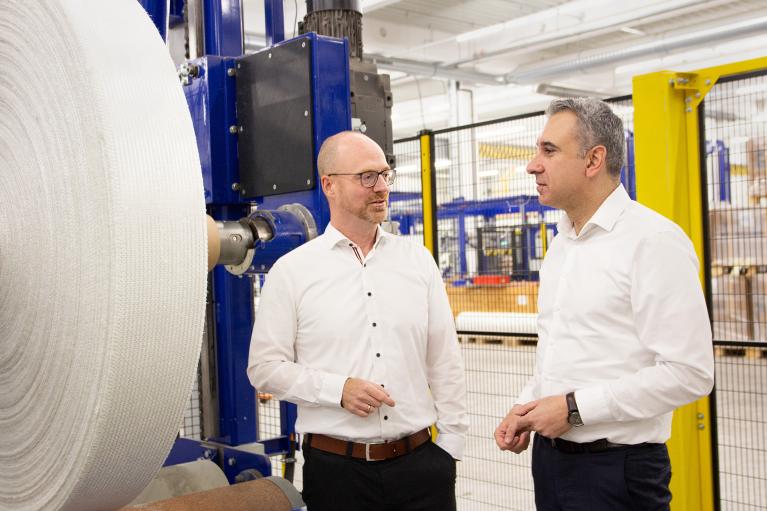 Kai Diecks and Nils Füchtjohann have clear corporate objectives in mind. One of these is to achieve CO2-neutral production.
B_I umweltbau: What will be the decisive/significant issues that Saertex multiCom will have to address in future?
Diecks: We see huge future global potential for trenchless rehabilitation using GFRP pipe liners.
This is why we are continuing to work on bringing innovative solutions to market and optimizing products in order to open up new markets or further develop existing ones. I have already mentioned our activities in the area of sustainability and digitization. We will continue to address these issues.
B_I umweltbau: Gentlemen, thank you very much for the interview!
*The process of monitoring curing in real-time involves sensors on the outside of the pressure liner that measure the ion viscosity and temperature there, allowing conclusions to be drawn about the curing behavior of the resin system.
Thanks to B_I Medien for making the contribution available.
Original German article can be found here.