Image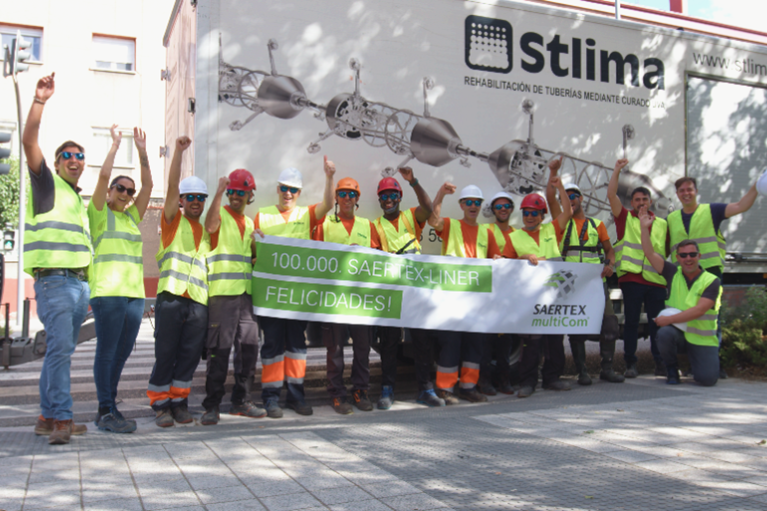 SAERTEX-LINER® H2O in Valladolid
Saerbeck and Valladolid, February 2023 - SAERTEX multiCom announces the successful completion of a very special trenchless rehabilitation project. The 100,000th pipe liner manufactured by SAERTEX multiCom was successfully installed in the major Spanish city of Valladolid. The installation was carried out by Spanish installation company STLIMA on behalf of local network operator AQUAVALL as part of a major project comprising 49 kilometers of sewer rehabilitation.
By the end of 2022, SAERTEX multiCom GmbH, based in Saerbeck in the Münsterland region, has already successfully delivered and installed the 100,000th pipe liner in the company's history in cooperation with Spanish sewer rehabilitation specialist STLIMA. Since its founding in 1996, the family-owned company has been producing glass-fiber-reinforced (GRP) pipe liners for the trenchless rehabilitation of sewers and drinking water pipelines.
"We are particularly pleased with the successful installation of this anniversary liner," says Kai Diecks, Global Managing Director at SAERTEX multiCom. "Because even though this SAERTEX-LINER was customized for the project in Valladolid, we have managed in the last 27 years to make trenchless rehabilitation already state of the art in many countries around the world - and thus part of everyday life for many sewer rehabilitation projects."
The company's 100,000th GRP pipe liner installed in downtown Valladolid was manufactured to rehabilitate a dilapidated section of sewer with an egg-shaped profile. The SAERTEX-LINER used had a diameter of 1200x800 mm and a length of 98 meters. It is part of a comprehensive rehabilitation project of the Valladolid sewer system of the local network operator Aquavall. Since construction work began in 2019, 49 kilometers of the dilapidated wastewater and stormwater pipelines in the urban area of the major city in northern Spain have already been rehabilitated using the trenchless method.
"The advantages of light-curing pipe lining here are that it can be carried out quickly," said Dr. David Greciano, construction manager at STLIMA. "The rehabilitation of a dilapidated sewer section, as here with the 100,000 liner from SAERTEX-multiCom, is usually accomplished within one day. That's why we're making fast progress on the project - without severely disrupting the daily lives of local residents."
Trenchless rehabilitation with pipe liners is carried out using the existing manhole systems of the sewer system. A hose made of glass fiber reinforcements pre-impregnated with plastic resin is pulled into the dilapidated old pipe, set up with compressed air and cured using a UV light chain. By eliminating the need for earthwork and tree felling, trenchless lining reduces the environmental impact of noise, dust and disruption to traffic that is common with other methods. The technical service life of a pipeline rehabilitated with glass-fiber-reinforced pipe liners is designed for 50 years.